Din data de 30 Decembrie pe site-ul www.licitatie-porumbei.ro , sunt scosi la licitatie 5 porumbei oferiti  domnul Jos Thone si 4 porumbei oferiti de domnul Guy Baerts.
In acest an "Crescatoria Jos Thone" a reusit sa castige pentru a 6-a oara trofeul "Golden Duif" unul dintre cele mai ravnite trofee din sportul columbofil. In continuare va sunt prezentati porumbeii scosi la licitatie.
1 Be 13-2174831 F consangvina "Limoges"
tata Be 11-4036024 M orig. Marc de Cock
29e Narbonne 11.000 p
frate cu
18e nat Orange
42e nat Libourne

mama Be 09-4263036 orig. Marc de Cock

mama fiica din "Goede Blauwe"
1e Bourges 1.069 p
10e Aurillac 6.611 p
36e Argenton 6.269 p
40e Souillac 6.475 p
113e Limoges 17.456 p
2 Be 12-2176063 F nepoata Mistral
tata Be 10-2214381 "Nelson",
reprodus din
"Nadal" semifrate cu loc 1 int. Barcelona 23.708 p
"Sister Nellie" sora cu loc 1 int. Barcelona 27.669 p

tata este nepot din "Nadira"
1e int. Carcassonne
1e int. Perpignan
mama Dv 6720-06-478  fiica "Mistral"
rezultate Mistral
2e. Olympiad bird Category E Marathon 2007 Oostende
2e. nat. Ace cock Long Distance 2006
5e. nat. Perpignan '06 1,452 b.
8e.  int. Perpignan '06  14,812 b.
8e. nat. Carcassonne '06  2,717 b.
31e. int. Carcassonne '06  10,448 b.
12e. nat. Bergerac '05  1,320 b
42e. int. Bergerac '05   3,180 b
61e.  nat. Perpignan '05 2,019 b
67e.  nat. Marseille '05  3,575 b

3 Be 13-2188719 F nepoata Sedna
semi-sora cu
8e St. Vincent 417 p
9e prov. Pau 190 p
14e Tours 865 p
tata Be 09-5061607 "Son Sedna I"

tata este fiu din  "Sedna I″ vanduta la licitatie cu suma de 120.000 e

rezultate Sedna I
1e int Narbonne 5870 p
1e prov fond KBDB '05
1e int Narbonne femele '05
1e nat AVR fond yearling '05

tata este semi-frate cu "Sedna II"
2e int Narbonne 5.870 p

mama Be 08-2191514 "Sister Golden Boy"
sora cu "Golden Boy"
4e nat Tulle 6.585 p
mama este semi-sora cu
4e s-nat Jarnac 3.714 p
15e int. Narbonne
9e int. Bordeaux
22e int. Bordeaux
4 Be 14-2327647 F  nepoata "Fado"
tata Be 13-2080172 "Ivan"
fiu din "Den Tulle" 1 nat. Tulle 7.350 p.

mama Be 12-2199957 "daughter Fado"
mama este fiica din "Fado"
6 nat. Acepigeon KBDB mare demifond
5e La Chatre 3.362 p.
4e Nevers 1.557 p.
8e Bourges 2.883 p.
mama este fiica din "La Souterraineke"
1e La Souterraine 2.231 p
8e La Souterraine 16.676 p
5 Be 10-2202434 F semisora cu 1e nat Perpignan
semi-sora cu
1e nat Perpignan
2e int. Perpignan
tata Be 01-1521798 "Junior Faldo"
tata la
1e nat Perpignan
2e int. Perpignan

mama Be 08-5061696 consangvina "Sedna I"
"Sedna I″ vanduta la licitatie cu suma de 120.000 e
1e int Narbonne 5870 p
1e prov fond KBDB '05
1e int Narbonne femele '05
1e nat AVR fond yearling '05

6 Be 10-2202437 F daughter "Beauty Golden Boy"
semi-sora cu
33e nat Limoges 11.995 p
185e nat Bourges 26.984 p
tata Be 03-5071086 Beauty Golden Boy
tata la
33e nat Limoges 11.995 p
185e nat Bourges 26.984 p
tata este fiu din "Devil" x "Gouden Grijs"
mama Be 07-5080821 daughter "Bunder" x "Temptation"
"Bunder"
5 x Barcelona
3e Primus Interpares  '06
7  Be 10-2202446 F orig. Jos Thone
tata Be 06-5150865 semifrate "Goor"
"Goor "
16e nat Barcelona 13.502 p
35e int. Barcelona 27.669 p
186e s-nat Orange 3.350 p
194e nat St. Vincent 7.525 p
314e int Irun 15.827 p
561e nat Montelimar 7.873 p
709e int Perpignan 17.624 p
829e nat Brive 14.521 p

mama Be 08-5061066 semisora cu "Sedna II"

8 Be 10-2202450 F nepoata Euro Diamond
semi-sora cu
1e prov Pau '13
95e int. Narbonne 11.000 p

mama este nepoata din:
 "Girder"
1e prov Pau '09
3e prov Cahors 666 p '08
4e prov Cahors 1.044 p '10
15e nat Cahors 5.441 p '08
21e int Pau 7.608 p '09
"Iruna"
2e int H Irun 2.509 p '07
4e nat Irun 5.846 p '07
4e Gien 516 p
4e prov Montauban 661 p '08
9e nat Montauban 6.187 p '08
10e int Irun 15.627 p '07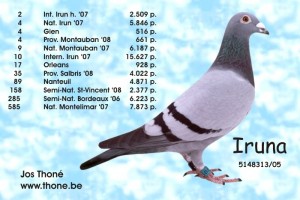 "Euro Diomond"
1e nat Carcassonne 2.719 p '06
2e int Carcassonne 10.323 p '06
3e nat Perpignan 1.452 p '06
5e int Perpignan 14.900 p '06
5e int Bergerac 3.180 p '05
5e nat Perpignan 2.020 p '05
12e int Perpignan 17.654 p '05
9e nat Marseille 3.575 p '05
21e int Marseille 13.930 p'05
23e nat Perpignan 2.210 p '04
58e nat Marseille 4.928 p '04
"Sedna I"
1e int Narbonne 5.870 p
1e prov acepigeon fond KBDB '05
9 Be 07-5080452 M Ocazie Unica
tata la
1e prov Tulle 555 p
4e nat Tulle 6.585 p
tata Dv 6720-06-477 fiu "Mistral"
mama Dv 6720-06-463 semi-sora cu
"Euro-Diamond", "Mistral" "Hannah" etc